With over 360 miles of coastline, there is no shortage of surf spots in Oregon. It may not be the warmest state and the water can be quite cold. But Oregon surfing is an experience like no other.
There is something for everyone—from complete beginners to pros who have been surfing all their lives. The coastline offers gentle breaks for newbies as well as crazy ones for the adrenaline junkies.
Regardless of your skill level, one thing is for sure: you will have a blast.
So if you are looking to go surfing in the Beaver State, here is all you need to know.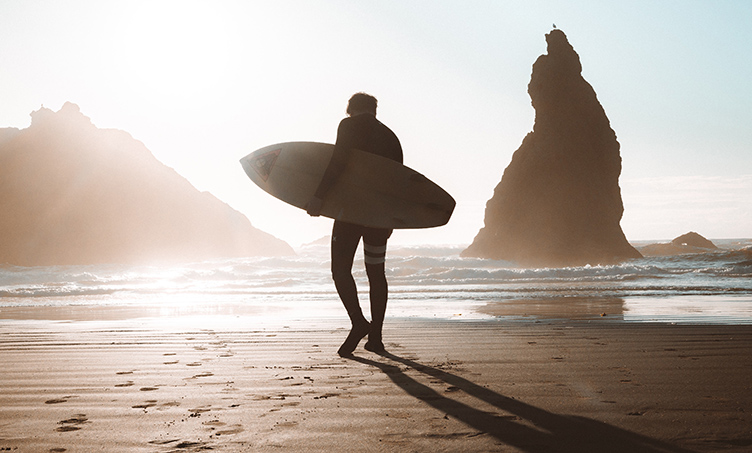 Best Surf Spots in Oregon
1. Cape Kiwanda, Pacific City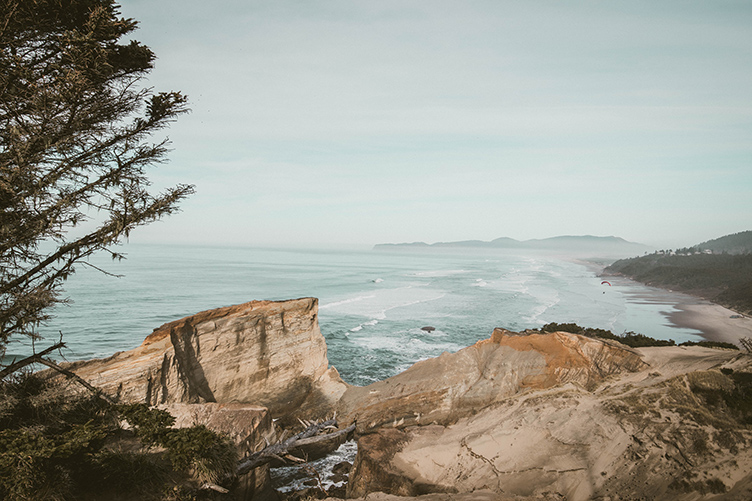 Cape Kiwanda lies on the north coast, in Pacific City. It is a small cape, the smallest of the Three Capes Scenic Route. But don't let the size fool you. The waves here can be phenomenal.
There are friendly beach breaks, right in front of the parking lot. Beginners will be comfortable learning the sport here.
If you are an intermediate surfer and you want a challenge, move to the south for a thrilling reef break. For an even bigger challenge, go to Gas Chambers, farther to the south. There is a beach break there that is more suited for pros.
The surf here is fairly consistent and is best when a west swell meets an offshore wind direction from the east.
Watch out for crowds, sharks, jet skis, and rips.
2. Seaside Cove
This is another good spot on the north side.
Unfortunately, it is not ideal for newbies. So don't tempt fate.
Summers can be flat but the surf is reliable and consistent.
There are left and right hand beach breaks as well as a left hand point break. A northwest swell plus an offshore wind direction from the east make the perfect surfing condition.
The swell starts working at 3 to 5 feet and holds up to 10+ feet.
Watch out for locals, sharks, rocks, and rips.
3. Otter Rock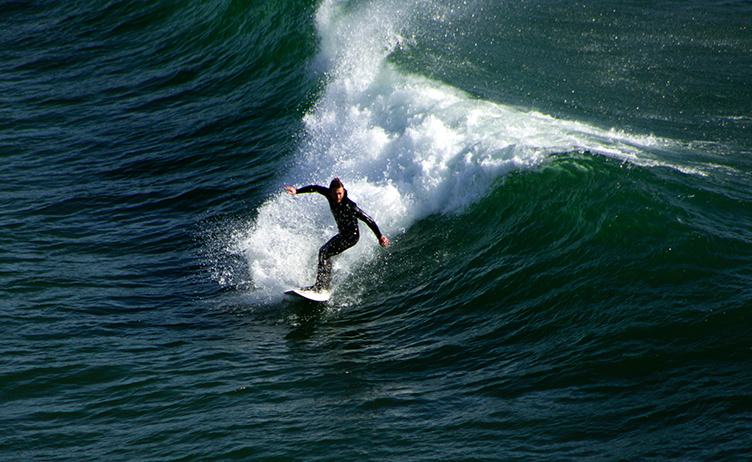 Some people believe that Otter Rock is one of the best surf spots in North America for newbies. That may explain why it is so popular.
There are both left and right handers. The surf is consistent and you can get good waves any time of the year. A west swell plus an offshore wind direction from the east make a great surfing condition. The swell starts working at less than 3 feet and holds up to 6+ feet.
When it is good, the spot can get crowded. Watch out for sharks, rips, and rocks.
4. Bastendorff Beach, Coos Bay
Bastendorff Beach is an awesome spot for surfers of all levels.
The beach break can be flat during summer but it is very consistent. There are left and right handers.
The swell starts working at less than 3 feet and can hold up to 6+ feet. A west swell plus an offshore wind from the southeast make the perfect surfing condition here.
Unfortunately, this spot is super polluted.
Watch out for sharks, strong rips, and pollution.
Local Surf Shops and Schools in Oregon
1. Moment Surf Company
This company is located in Pacific City. If you are planning to visit Cape Kiwanda, they will take care of you.
The surf shop has lots of rental gear—surfboards, paddleboards, wetsuits, leashes, gloves, hood, booties, etc. They have gear for kids and adults alike.
And for anyone above the age of 5, they have comprehensive surf lessons.
Other than that, they sell watersports equipment and apparel.
Website: https://momentsurfco.com/
2. Seaside Surf Shop
Surfing at Seaside Cove is an experience you will never forget. But it is even safer and more fun if you have the right gear.
Seaside Surf Shop has all kinds of boards and accessories. They sell apparel, sunscreen, towels, and whatever else you need to be in or around the water.
And if you are not looking to buy, you can rent. They have wetsuits, boots, paddles, and boards.
Website: https://www.seasidesurfshop.com/
3. Pura Vida Surf Shop
This surf shop in Otter Rock carries surfboards, skimboards, and bodyboards.
They also stock wetsuits, gloves, boots, hoods, accessories, sandals, and anything else a surfer may want.
The shop has affordable rentals for all sizes, including kids.
They have lesson packages as well. These packages include a board, leash, wetsuit, and boots.
Website: https://pvsurfshop.com/
4. Bahama Boards
This is a family-owned business in Coos Bay that carries eco-friendly boards.
They sell apparel, wetsuits, boards, and accessories. They also offer rentals for everything, from boards to gloves.
Website: https://bahamaboardz.com/shop/
Oregon Surf Cams and Forecast
Check out what to expect if you are planning to surf in Oregon.
Pacific city: http://webcam.pacificcity.org/
Otter Rock: https://ossiessurfshop.com/pages/otter-rock-surf-cam
Coos Bay: http://www.coosbaywebcam.com/
Restaurants in Oregon Beach
1. Pelican Brewing (Pacific City)
While at Cape Kiwanda, don't miss a chance to have a taste of Pelican Brewing's amazing beer. You should also try their fish and chips—you will love it.
The seating is remarkable as you can enjoy a great view of the ocean and surfers.
Website: https://pelicanbrewing.com/pubs/pacific-city/
2. Dooger's Seafood and Grill (Seaside)
This restaurant serves some of the tastiest seafood you will ever have. They have burgers, pasta, and steaks as well.
Dooger's Seafood also makes gluten-free options, so everyone is taken care of.
Website: http://doogersseafood.com/
3. Mo's Seafood and Chowder (Otter Rock)
Some say this is where you will find the greatest chowder on the planet.
The view is wonderful and you may be lucky enough to spot a few whales as you enjoy your seafood. You will not be disappointed.
Website: https://www.moschowder.com/mos-west-menus/
4. Little Italy (Coos Bay)
Visit Little Italy for a spectacular setting and delicious Italian meals.
This restaurant was voted the best Italian on the Oregon coast. So you know you are in for a treat. They have vegetarian and vegan options.
Website: http://littleitalycoosbay.com/
Conclusion
Don't let the cold water discourage you from experiencing the waves in Oregon. The surf spots are exceptional and diverse. Try to visit as many of them as you can. In almost every spot, you will find a surf shop that offers rentals and lessons.